When someone is convicted of possessing child pornography, they can be ordered through a civil lawsuit to pay restitutions to the victim. However, as Attorney Erin Wallin of Berke, Berke & Berke recently discussed in an interview with Times Free Press, the restitution amount is usually $500, a miniscule amount compared to the harm caused to the victim. Not only is the amount small, but it also requires the victim to relive their trauma by court appearances, victim impact statements and the requirement that they prove the amount of harm caused to them when a criminal downloaded the worst moment of their lives.
Attorney Wallin is determined to fix this flawed system with a groundbreaking idea. She has proposed a new federal law should be implemented that grants limited copyrights to victims of child pornography in the images or videos created by their assailants. That is to say, anyone underage in sexually explicit media would automatically have ownership, at least partially, of that media. Ownership is important, because you can't destroy what you don't own. And Attorney Wallin wants victims to be able to eradicate those images from the web.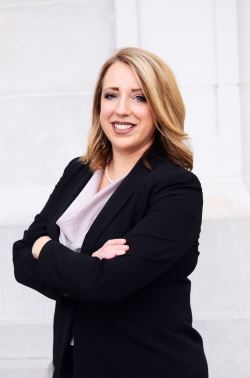 If this were to become the case, then someone convicted of child pornography possession would also be guilty of copyright infringement. Child pornography victims would then be entitled to restitutions of a preset amount, which Wallin suggests to begin at $1,000 per image. To make this change even simpler and more effective, a criminal court judge could assign those restitutions at the time of conviction, eliminating the need of a civil lawsuit filed afterwards. Perhaps most importantly, copyright law covers attorney fees, so attorneys would be incentivized to find these victims and get them the help they need.
The idea is not just novel, it is attention-catching. Attorney Wallin has already met with high profile people and groups in the government, including United States Senators and Theo Wold, the special assistant to President Trump for domestic policies. Her trip to Washington, D.C. to meet with Wold was promising. She states Wold is planning on future meetings to move her idea even further up the political ladder and to place it in front of even more politicians. With her tenacity, there is a very real chance her idea could become a reality and a legal shield for child pornography victims all around the country.
(You can read the full Times Free Press article about Attorney Erin Wallin and her groundbreaking legislative idea by clicking here. Login or subscription may be required.)
Would you like to know more about Attorney Erin Wallin? Do you need the help of a Chattanooga injury attorney from Berke, Berke & Berke? Please do not hesitate to contact our law office at any time by dialing (423) 266-5171. We offer free initial consultations for inquiring clients.